Devon Diamond: Vincent Willson
Devon Diamond: vincent willson
Our fifth Devon Diamond is Manager of Citizens Advice Teignbridge and Devon Community Learning Academy Trainer, Vincent Willson...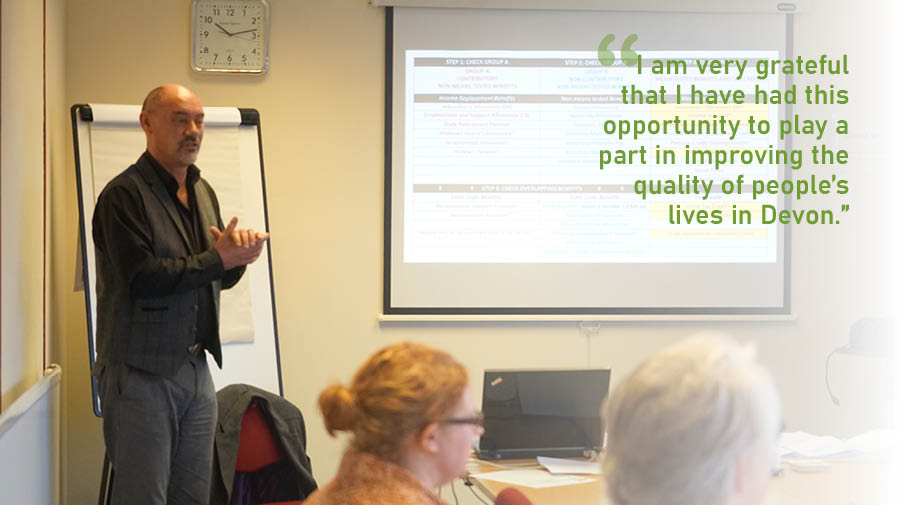 Vincent Willson is not a Devonian by birth but has made the county his home for over 40 years. He was born in Essex but has lived in Devon since going to Exeter University in 1980.  Vincent met his future wife (from Tiverton) whilst at University and they lived in Exeter, working and bringing up their two daughters, until moving to Teignbridge in 2012.  They now live in a house overlooks the Exe Estuary, near Starcross. 
Vincent started working at Citizens Advice Exeter in 1985 and has worked for the Citizens Advice service in various roles in Devon since then, having become the manager of Citizens Advice Teignbridge in 2017.  He worked for 24 years at Devon Welfare Rights Unit, a specialist training and consultancy service of national Citizens Advice. 
"What I have loved most about working for Citizens Advice is the opportunity to improve the lives of people by informing them of their rights and helping them to exercise those rights.  I have been privileged to be a welfare rights trainer, with the opportunity to help other advisers to gain knowledge and skills to do the same. 
"Much of my work has been centred on projects and training relating to children and adults with disabilities, for whom the welfare system is minefield.  I am very grateful that I have had this opportunity to play a part in improving the quality of people's lives in Devon."
Vincent has been providing benefits training in partnership with Devon Communities Together for the last four years.
"It has been very rewarding to have worked with such a respected and professional organisation which shares the same values and which is committed to improving people's lives in Devon.  It's great to make links and work with other organisations so that the whole of the voluntary sector can be greater than the sum of its parts. Working in partnership with other organisations has been a great pleasure throughout my working life."
Why I love devon 
"I do love living in Devon.  I love the variety of the cities, towns, villages, coasts, moors, valleys, estuaries and countryside.  I love the open spaces, the skies, the changing weather and seasons.  The rugby is good too – what can be better than having Exeter Chiefs as your local team?"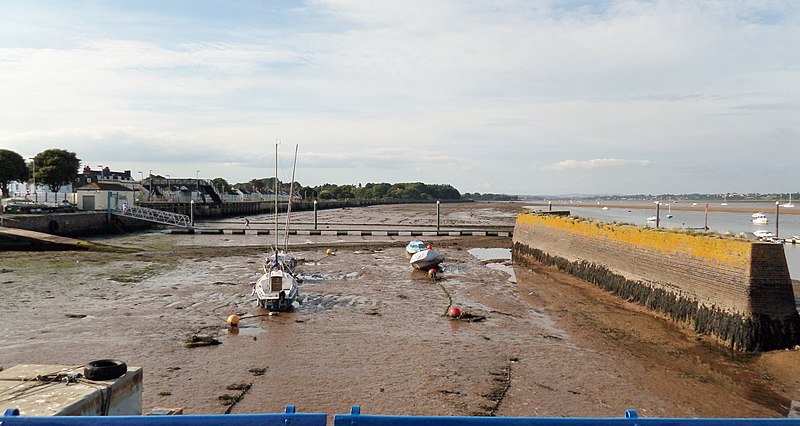 Above: Vincent enjoys a view of the Exe Estuary nr Starcross, having made Teignbridge his home Picture credit: Rosser1954, Wikimedia, repriduced under Creative Commons License.
Thanks for being a Devon Diamond, Vincent. You have made a huge difference to people's lives in Devon through your work at Citizens Advice, and continue to do so by sharing your expertise with others. 
Nominate your devon diamonds
Each week during our 60th anniversary year we will be sharing a story, profile or memory from one or more of our 'Devon Diamonds'. Devon Communities Together's Devon Diamonds are people who have played a part in our story since 1961. They could be ex (or current!) employees or trustees, people who have achieved amazing things in their own communities, representatives from partner organisations we've worked with over the years, village hall committee members, Councillors, and more ... the list is endless! 
We plan to create 60 Devon Diamonds throughout the year! If you know of somebody who would make a great Devon Diamond profile, please get in touch by calling 01392 248919 or emailing info@devoncommunities.org.uk.