Devon Diamond: Bryony Frost
Devon Diamond: bryony frost
Our ninth Devon Diamond (in the week of the Cheltenham Festival) is a little bit different this week - we want to say good luck to LOVE Devon ambassador and champion jockey, Bryony Frost...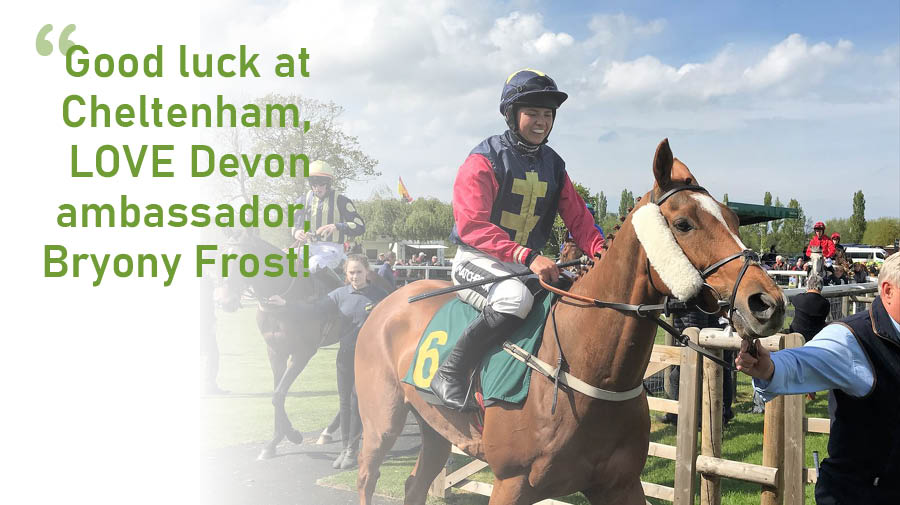 LOVE Devon is DCT's fundraising arm, which (in non-Covid times!) hosts events and other fundraising initiatives to help to fund DCT's work all over Devon. LOVE Devon is very fortunate to have as an ambassador Devon's own star of the horse racing world, Bryony Frost.
Bryony faces the biggest day of her developing Racing career so far on Friday when she partners Frodon in the blue riband event of the Cheltenham Festival, the Gold Cup. Read our good luck message here!
Bryony is very much a born and bred Devon girl. Born into the Frost family with its initial farming - and then equestrian - focus in Devon, she grew up at the family home which is part of the stable complex just outside Buckfastleigh en route to Holne and Scorriton. Being the daughter of Grand National winning jockey and now racehorse trainer Jimmy Frost, it is often said that she could ride a pony before she could walk! It was therefore no surprise that she and elder brother Hadden were both stars of the local pony circuit, graduating to successful point to point riders and both becoming professional jockeys.
After starting to ride for her father she soon was approached by the top stable of Paul Nichols and after an initial success at the renowned Cheltenham festival, she soon turned professional and quickly attracted the headlines with some major wins which often featured on ITV racing. This led to Bryony quickly became a darling of the racing world and culminated in her becoming the first woman to win a Grade One race at the Cheltenham Festival on her beloved Frodon. The racing world was captivated by how she spoke of this special horse on whom she has had much success.
Although now consistently in the top 20 jockeys in the country and living a high profile life, she still likes nothing better than returning to her family home and enjoying this glorious county. She describes herself as "ferrel" and loves to talk about her Devon childhood and upbringing. She has been a big supporter of LOVE Devon leading 2018's Walk for Widdecombe fundraiser and speaking at numerous events which raised money for DCT. She entertained an enthralled audience when interviewed by Radio Devon's David Fitzgerald, Love Devon's Patron, at the first Annual Dinner in 2019.
We look forward to working with Bryony much more in the future!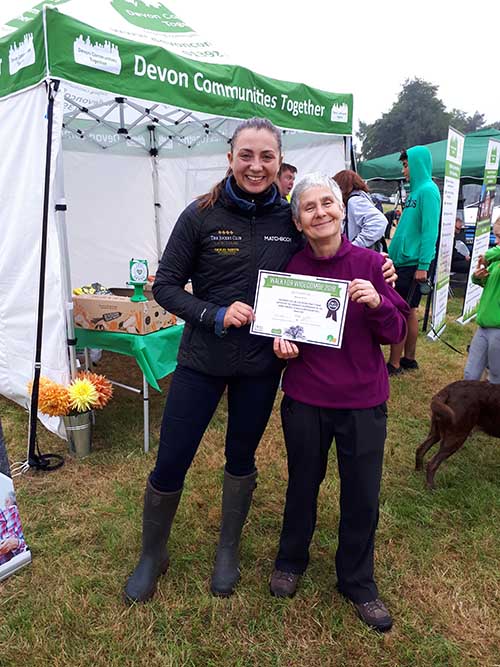 Above: Bryony Frost completes LOVE Devon's Walk for Widecombe fundraising event in 2018, with former DCT Chair (and fellow Devon Diamond!) Teresa Butchers. 
Thanks for being a Devon Diamond, Bryony. It's great to have such a high profile Devon success story supporting our fundraising initiatives! 
Nominate your devon diamonds
Each week during our 60th anniversary year we will be sharing a story, profile or memory from one or more of our 'Devon Diamonds'. Devon Communities Together's Devon Diamonds are people who have played a part in our story since 1961. They could be ex (or current!) employees or trustees, people who have achieved amazing things in their own communities, representatives from partner organisations we've worked with over the years, village hall committee members, Councillors, and more ... the list is endless! 
We plan to create 60 Devon Diamonds throughout the year! If you know of somebody who would make a great Devon Diamond profile, please get in touch by calling 01392 248919 or emailing info@devoncommunities.org.uk.