Devon Diamond: Dale Hall
Devon Diamond: DALE hALL
Our twentieth Devon Diamond is Dale Hall.
Many people retire happily to Devon, as Rachel (my wife) and I did five years ago; but such a retirement, and my whole career, would have been impossible had I not come from Salford into foster care in Devon aged 10. Parts of Salford are fashionable now, but in the 1950s it was a tough slum; and failing the 11+ after a poor primary education meant I was condemned (like so many other kids) to the 'blackboard jungle' of its secondary modern schools. Wartime evacuation experience probably influenced the decision to foster me to Devon – but coming here transformed my life.
It meant that I went to the new Ashburton Secondary Modern with dedicated teachers (mainly trained at St Luke's, Exeter) who were kindly ambitious for their pupils. After 60 years, I can still recall their names and will always be grateful to them! After gaining six O-levels (very unusual in those days at a secondary modern), I moved to Newton Abbot Grammar School, from where I went to university eight years after coming to Devon. But the two schools and Devon gave me more than qualifications. School sports, Dartmoor, Ten Tors and playing cricket for both Lustleigh and Manaton (surely two of the most beautiful village grounds in England) not only gave me confidence but a love of adventure and the outdoors.
The four families with whom I was fostered (in Hawkmoor Hospital Cottages, Slade Cross, Lustleigh and finally Bovey Tracey) were not well off (two were definitely poor), but they were kind and generous; and they gave me freedom to roam and explore everything the countryside had to offer.
After university, throughout my career as an academic and managing director of a social research company, I never forgot what I owed to the families and teachers in Devon; and, knowing Devon and Dartmoor well, I returned for cycling and walking holidays many times. So, Devon was the natural place to retire.
I am now a trustee of Devon Communities Together (DCT) and the Devon Branch of the Campaign for the Protection of Rural England (CPRE) because both are well-organised respected all-Devon charities that support rural communities. I recently enjoyed representing DCT at the Devon County Show and it was fascinating to listen to visitors' vivid memories of visiting or living in Devon. The CPRE not only encourages people to appreciate the Devon countryside through initiatives in schools and local communities but also helps preserve it. For both charities, I am particularly interested in community consultation and governance.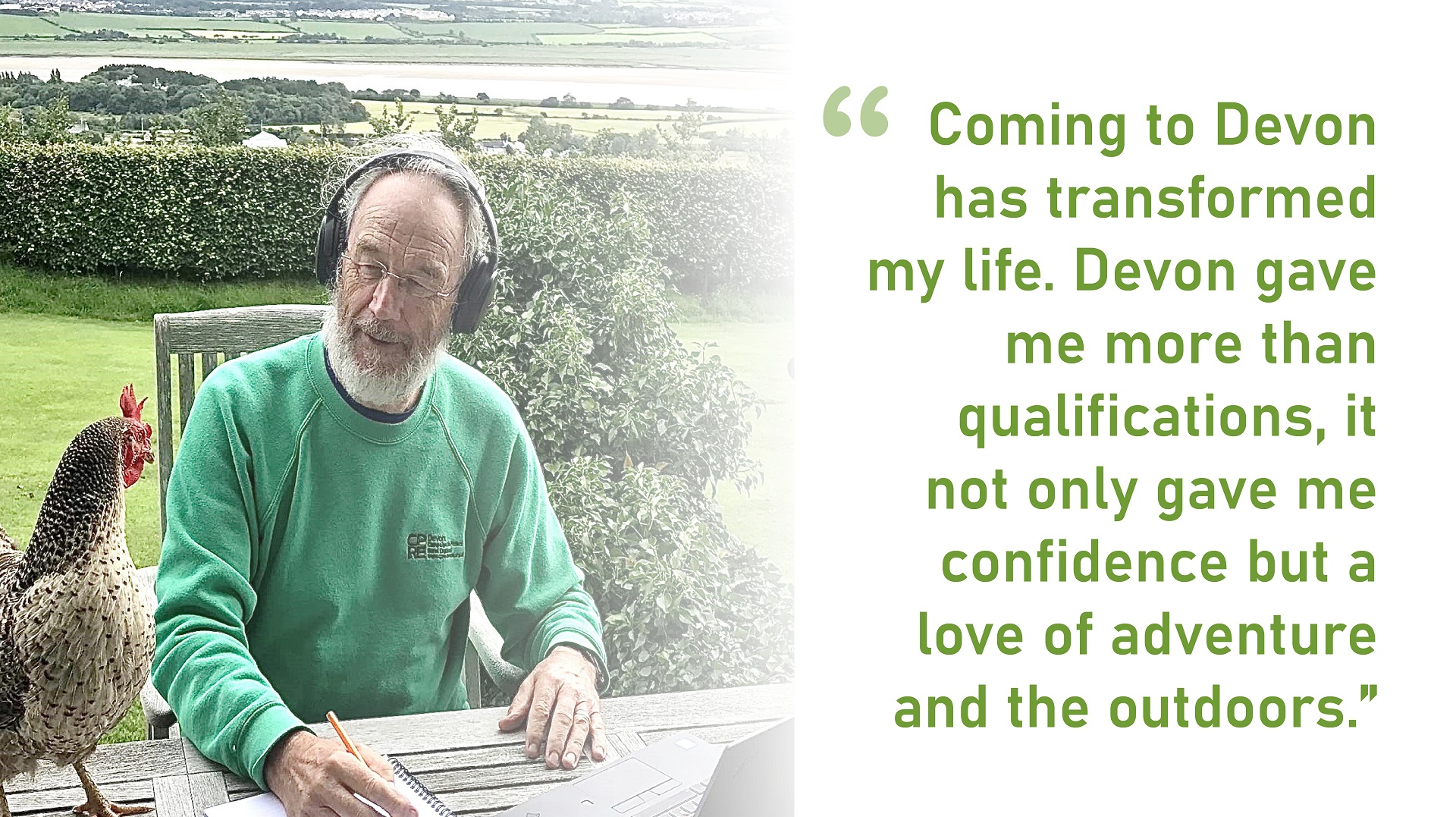 Ashford, where I live, is a small village with few facilities, but it responded positively when I formed the Ashford Society, a book club and a village cycling group. The Ashford Society runs art and craft exhibitions, informative talks by villagers or visiting speakers, wine and cheese tastings, and village dinners. The book club encourages participation by inviting people to 'introduce' the various books they have read rather than focusing on only one book for each meeting. The cycling club does scenic and social rides and welcomes all kinds of bikes. One active rider is 80 years young!
With lockdown, the Ashford Society launched an email Newsletter that is issued two or three times a week. So far there have been over 290 issues! The Ashford Society is the support services network for the village and quickly recruited 24 volunteer helpers for prescriptions' collection, shopping, home visits and help with gardening. We also set up a weekly village Social Zoom group and helped those needing assistance to download and run Zoom. The heritage of mutual help will continue long after lockdown ends: the newsletter is now permanent and there are plans to re-start the social Zoom in the winter.
Finally, as an Ashford parish councillor, I encourage Neighbourhood Watch, discourage anti-social behaviour, promote stricter speed limits on narrow village lanes, and stand for free speech and accountability in public life.   
Nominate your devon diamonds
Each week during our 60th anniversary year we will be sharing a story, profile or memory from one or more of our 'Devon Diamonds'. Devon Communities Together's Devon Diamonds are people who have played a part in our story since 1961. They could be ex (or current!) employees or trustees, people who have achieved amazing things in their own communities, representatives from partner organisations we've worked with over the years, village hall committee members, Councillors, and more ... the list is endless! 
We plan to create 60 Devon Diamonds throughout the year! If you know of somebody who would make a great Devon Diamond profile, please get in touch by calling 01392 248919 or emailing info@devoncommunities.org.uk.