Devon Diamond: Elaine Cook
Devon Diamond: elaine cook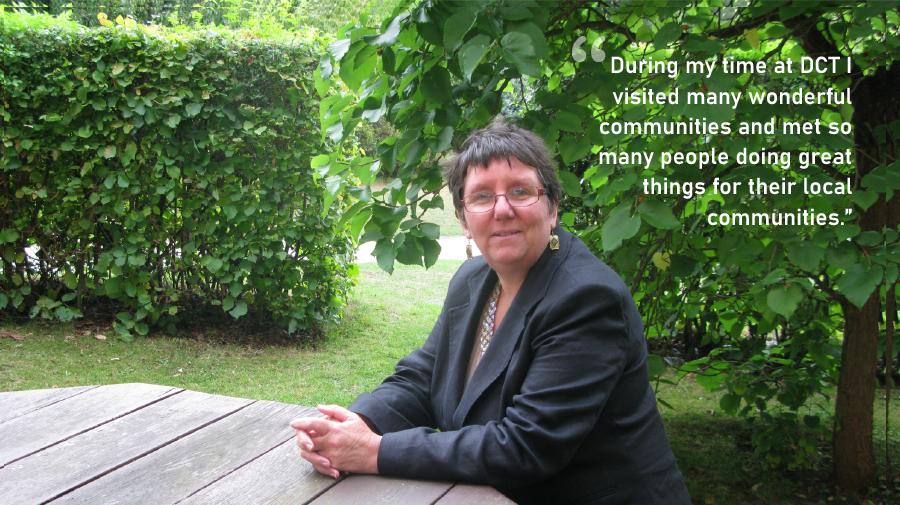 Our third Devon Diamond is a former Chief Executive of Devon Communities Together, Elaine Cook...
Elaine led DCT as our Chief Executive for nine years until her retirement in the spring of 2020. Prior to that, Elaine had enjoyed a varied career primarily in the voluntary sector and much of it spent supporting rural communities.
In 2011 Elaine and her partner relocated to North Devon from Berkshire where she had worked with the Community Council of Berkshire for over 20 years, as a volunteer, then as a board member and finally as Chief Executive. 
"Although I was born in West London, my family re-located to a small village on the Surrey/Berkshire border in my mid-teens and apart from some spells as a city and town dweller have lived most of my life in rural communities."
During Elaine's time with DCT, she presided over a huge number of projects.  Highlights included the Homegrown Community owned project which helped local communities establish food growing schemes, Women Led Enterprise which supported women entrepreneurs, and more recently the Devon Highlights project tackling rural isolation and loneliness. Elaine also oversaw many programmes in support of social enterprises and rural businesses. It is difficult to quantify the impact Elaine had during her time with DCT, both on the charity and on the many, many communities she supported. 
Despite retiring just as the pandemic took hold in the UK, Elaine has actively continued to support rural action through her role as a trustee of ACRE (Action with Communities in Rural England), which is a national charity that speaks for rural communities across England and is the umbrella body for the network of 37 county based rural action charities, including DCT.
"Retirement during a pandemic has been both interesting and challenging. Initially my time and energy were focused on DCT's response to the pandemic and its support for the County Council and the village hall/community building network and parish councils.  That work has continued throughout the pandemic and demonstrates how DCT is able to adapt quickly to meet the new circumstances that communities across Devon are facing. 
"With a vulnerable partner, lockdown meant that many of my retirement plans have had to go on hold but lots of time at home has meant that I have been able to make the most of my garden, catch up on reading, start a new quilting project, and begin a course of study whilst honing my skills on ZOOM as more and more meetings went on-line!"
Elaine's commitment to supporting rural communities even during retirement, highlights exactly why she's our third Devon Diamond!
Why I love devon 
"Whilst Devon has some of the most wonderful landscape with the mix of coast, moor, woodland, and countryside, its the wonderful villages, hamlets and small market towns that I love the most. During my time at DCT I visited many wonderful communities and met so many people doing great things for their local communities. Whether part of the local Parish Council, or running their village hall, keeping their village shop or pub alive, providing jobs through local businesses or running all those clubs and activities that make for a vibrant community, Devon's' communities have retained a distinctiveness and a friendliness that makes Devon such a wonderful place to live. No wonder so many people now choose Devon as a place to live."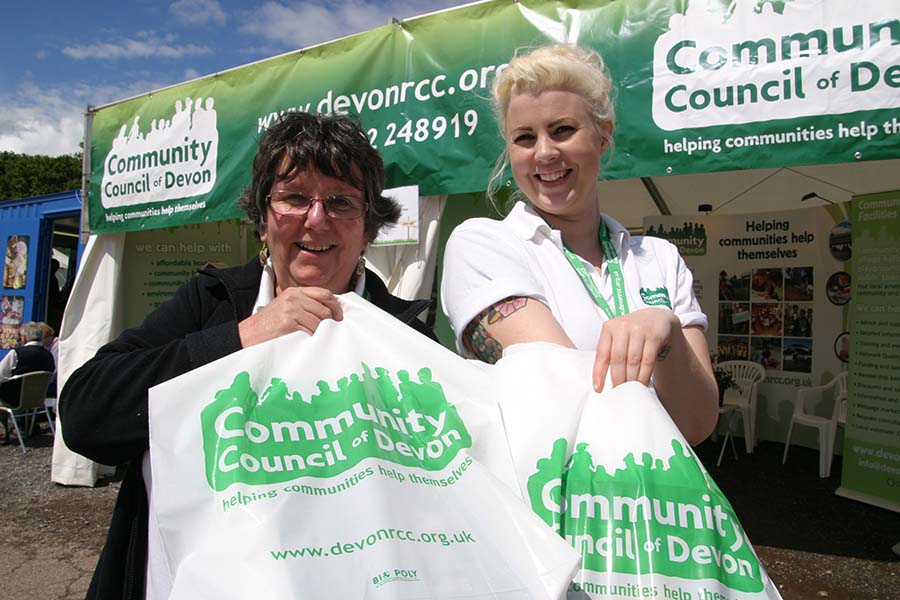 Above: Elaine and a colleague at the Devon County Show
Thanks for being a Devon Diamond, Elaine. We hope to be able to have a delayed retirement celebration with you later this year!
Nominate your devon diamonds
Each week during our 60th anniversary year we will be sharing a story, profile or memory from one or more of our 'Devon Diamonds'. Devon Communities Together's Devon Diamonds are people who have played a part in our story since 1961. They could be ex (or current!) employees or trustees, people who have achieved amazing things in their own communities, representatives from partner organisations we've worked with over the years, village hall committee members, Councillors, and more ... the list is endless! 
We plan to create 60 Devon Diamonds throughout the year! If you know of somebody who would make a great Devon Diamond profile, please get in touch by calling 01392 248919 or emailing info@devoncommunities.org.uk. 
Pictured above - Plymtree Primary School: © Chris Allen and licensed for reuse under this Creative Commons Licence.