Devon Diamond: Graham Walker
Devon Diamond: Graham Walker
Our twelfth Devon Diamond is Graham Walker, a former Big Issue seller who has fundraised over £100,000 for local charities and good causes here in Devon...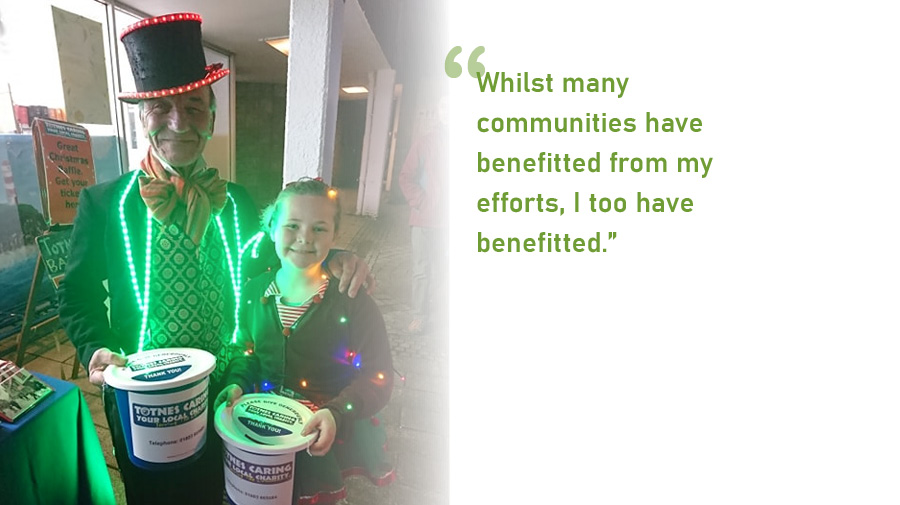 Here is Graham's story in his own words:
"My name is Graham Walker. I have spent the last 30 years in various towns throughout Devon. Most of this time was spent as a homeless Big Issue vendor.
"As a Big Issue man, selling in many communities in Devon, I have always felt the need to return, in some way, the support and generosity I constantly received from the public. Consequently, when selling the Big Issue in a town, before moving on to the next town, I would always fundraise, in various ways, to support local individuals and charities within the community. The towns would support me in buying the Big Issue and I, before leaving, would return the gesture.
"Fundraising, as a Big Issue vendor was initially challenging. Would the public trust me? I'm happy to say that they always did. And the results borne from the public's trust and generosity always amazed me.
"As a Big Issue man, over a number of years I managed to raise over £80,000 for various communities throughout the South West. Recipients include Plymouth Chernobyl project; Christmas gifts for disadvantaged children in Newton Abbot; funeral costs for a homeless man in Totnes; Barnstaple Poverty action group; and Children's Hospice SW in Barnstaple (where I was elected as Citizen of the year); funding for a homeless day centre; Big Issue foundation; funding for a youth club in Brixham; funding food vouchers for the homeless in Totnes; and many others
"A few years ago, due to a two-year fight with cancer, combined with forming a wonderful relationship with one of my Big Issue customers, I moved 'indoors' and settled in Totnes. Once recovered from my illness, although no longer selling the Big Issue, my fundraising has continued and through the generosity of the Totnes community, I have, over the last few years, raised a further £30,000, mostly for local Totnes charities and individuals in need. 
"My most recent fundraising (and due to poor health, sadly my last) in Totnes, just before Christmas, raised over £3,500 for Totnes Caring, Food in the community and Bob the Bus community transport.
"Whilst many communities have benefitted from my efforts, I too have benefitted. I have over the years, from various towns, not only received bucket-loads of respect, trust and indeed love, I have also accrued many wonderful and life-long friends.
"I am now settled, with my partner (the same Big Issue customer) in Paignton."   
Why I love devon ...
"Devon and it's residents have been good to me and I am so lucky and indeed grateful to be able to call it home."
Thanks for being a Devon Diamond, Graham. What an inspiring story about people in communities supporting each other all over Devon. 
Nominate your devon diamonds
Each week during our 60th anniversary year we will be sharing a story, profile or memory from one or more of our 'Devon Diamonds'. Devon Communities Together's Devon Diamonds are people who have played a part in our story since 1961. They could be ex (or current!) employees or trustees, people who have achieved amazing things in their own communities, representatives from partner organisations we've worked with over the years, village hall committee members, Councillors, and more ... the list is endless! 
We plan to create 60 Devon Diamonds throughout the year! If you know of somebody who would make a great Devon Diamond profile, please get in touch by calling 01392 248919 or emailing info@devoncommunities.org.uk.