Devon Diamond: Jo Pickering
Devon Diamond: Jo pickering
Our 22nd Devon Diamond is Jo Pickering, who, as part the Empowering Enterprise project with Odils Learning Foundation has been supporting Plymouth's migrant population to integrate into the city's community ...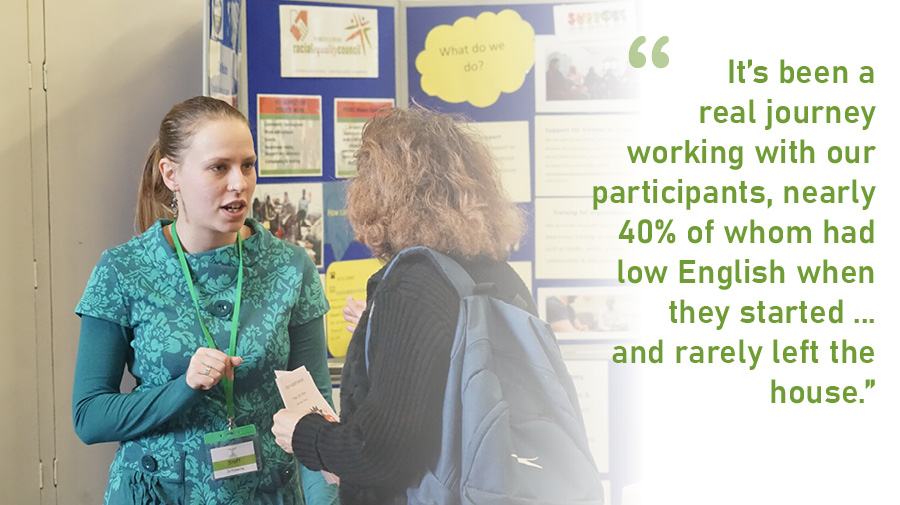 "Hi!  I'm Jo and I moved to Plymouth 11 years ago to do my degree and can safely say it's one of the best decisions I ever made.  I really enjoy the immense diversity of people and activities available here, from the amazing world food restaurants to the thriving local music and art scenes. I think this reflects in the wide array of jobs I've done here: from running live music events to cheerleading coaching, but now I'm working as the Mentoring Project Manager at Odils Learning Foundation. 
"Odils is a really special adult education school teaching English as a Second Language (ESOL) to Plymouth's migrant populations.  Although I first started here as a teacher, it's through my work on Odils' Empowering Enterprise project that I've come into contact with the Devon Communities Together team.  Empowering Enterprise is a mentoring project for 18-24 year olds to try and help them move forwards with their lives.  It was a completely new venture for Odils, but its safe to say that the opportunities it offered have been incredibly important for the communities we work with. I feel so grateful to have been given the opportunity to lead on it.
"It's been a real journey working with our participants, nearly 40% of whom had low English when they started on the project and rarely left the house.  Probably the biggest piece of work we've done is to help our participants to interact with the local community and it's taken many forms! 
"We've worked with volunteering organisations to make their opportunities more ESOL friendly, with students successfully volunteering in shops and as stewards at local events, such as Freedom Fields and Respect festival. 
"We've supported students to get involved in local English speaking clubs, confidently speak to doctors, conduct mapping exercises of BAME businesses in the city and attend BAME awards ceremonies.  However, finding training or job opportunities for our students can be really challenging. As a result we've developed a number of initiatives, like careers fairs and bespoke courses that aim to give the students the language they need to move out of the ESOL classroom. 
"During lockdown our students were also able to use the skills they'd learnt on Empowering Enterprise to help support their communities by making translated Coronavirus advice and digital skills videos on PowerPoint that have been viewed across the country! I'm so proud of how far each and every one of them has come."
Find out more about empowering enterprise project here.
why do you love devon?
"I love being able to walk to the sea and the moors - it feels like I'm exploring all the time!"
Jo and the Odils Learning Foundation have been doing some incredible work in Plymouth, helping some of Devon's newest residents feel welcome and integrated into their communities - thanks for being a Devon Diamond, Jo!
Nominate your devon diamonds
Each week during our 60th anniversary year we will be sharing a story, profile or memory from one or more of our 'Devon Diamonds'. Devon Communities Together's Devon Diamonds are people who have played a part in our story since 1961. They could be ex (or current!) employees or trustees, people who have achieved amazing things in their own communities, representatives from partner organisations we've worked with over the years, village hall committee members, Councillors, and more ... the list is endless! 
We plan to create 60 Devon Diamonds throughout the year! If you know of somebody who would make a great Devon Diamond profile, please get in touch by calling 01392 248919 or emailing info@devoncommunities.org.uk.