Devon Diamond: Max and Maya Price
Devon Diamonds: Max and Maya Price
Our sixth Devon Diamond - or should we say Devon Diamonds - are identical twins and social entrepreneurs, Max and Maya Price ...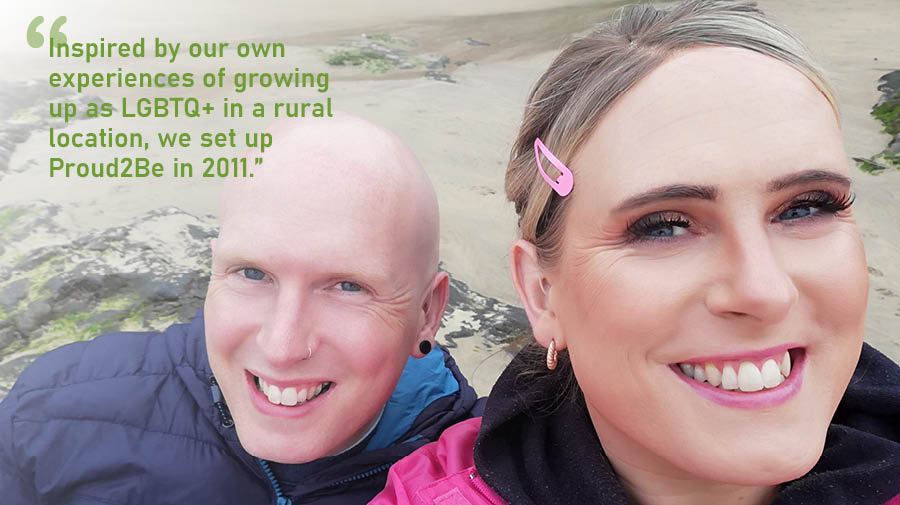 Identical twins Max and Maya Price are founders of social enterprise Proud2Be, based in Totnes. Proud2Be supports lesbian, gay, bisexual, trans and/or questioning+ (LGBTQ+) people and their families, in South Devon and beyond, to lead empowered, fulfilled and authentic lives. DCT worked with Max and Maya as part of the recent Empowering Enterprise project which supported young people aged 18-24 who are NEET (Not in Education, Employment or Training) across Devon, Plymouth and Torbay. 
"Inspired by our own experiences of growing up as LGBTQ+ in a rural location, we set up Proud2Be in 2011. We facilitate inclusive peer support groups and an annual community event (Totnes Pride). In 2014 Proud2Be launched a youth project, which now includes weekly youth groups, a 121 support service and a family support group."
"To increase understanding of the issues LGBTQ+ people living in rural areas may face, Proud2Be also delivers awareness training to schools and other organisations."
"We support approximately 250 people a year at our regular groups, a further 2000 a year at Totnes Pride and approximately 1000 local young people a year who participate in our awareness workshops at school enrichment days."
In 2020, Max and Maya facilitated a talk about identity, gender and mental health, leading an interactive breakout session and taking part in a panel discussion at 'Positive Perspectives' conference by Empowering Enterprise Petroc. They also delivered an Identity workshop to young people attending an 'Empowering Enterprise' course at Young Devon.
As Empowering Enterprise's impact measurement and evaluation partner, DCT witnessed first-hand the amazing work of Proud2Be, led by Max and Maya, are are delighted they are featuring as Devon Diamonds!
So what do the busy Max and Maya like doing outside of their hard work at Proud2Be?
"I (Max) like to walk, run, listen to music, sing and mooch around all the charity shops I can find (Newton Abbot being the best place for charity shops in my humble opinion!)"
"I (Maya) like to work out, watch movies and perfect my make-up skills. I also like connecting with friends and playing on my piano."
Why WE love devon 
"In 2012 we were living in our hometown of Solihull. Megabus had a great deal on at the time so we booked a 3 day holiday to Torquay. 8 years later and we are still here! It really is our chosen home. We are surrounded by beautiful beaches, woodland and rivers and it's where we have both made so many significant memories."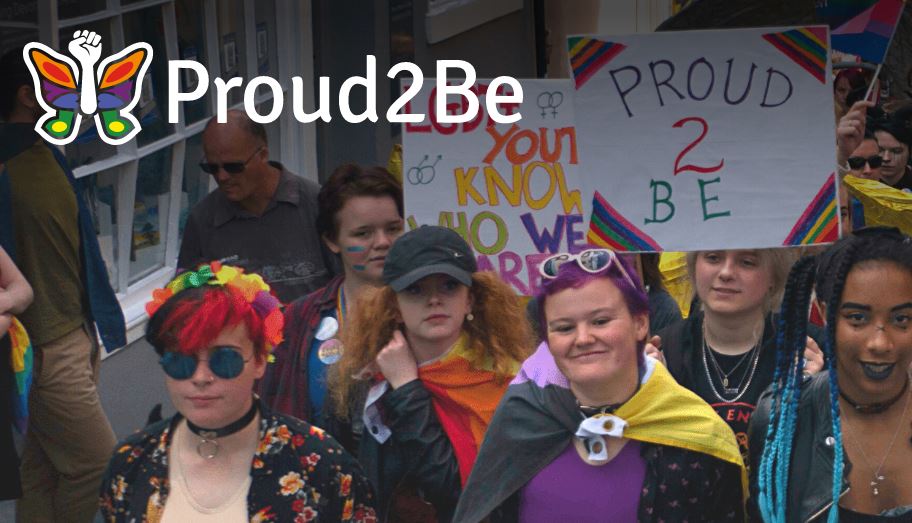 Above: image taken from proud2be.org.uk
Thanks for being our first joint Devon Diamonds, Max and Maya. It's been fantastic working with Proud2be as part of Empowering Enterprise  - we're glad you chose to make Devon your home!
Nominate your devon diamonds
Each week during our 60th anniversary year we will be sharing a story, profile or memory from one or more of our 'Devon Diamonds'. Devon Communities Together's Devon Diamonds are people who have played a part in our story since 1961. They could be ex (or current!) employees or trustees, people who have achieved amazing things in their own communities, representatives from partner organisations we've worked with over the years, village hall committee members, Councillors, and more ... the list is endless! 
We plan to create 60 Devon Diamonds throughout the year! If you know of somebody who would make a great Devon Diamond profile, please get in touch by calling 01392 248919 or emailing info@devoncommunities.org.uk.