Devon Diamond: Mike Wharton
Devon Diamond: mike wharton
Our fourteenth Devon Diamond is DCT's own Trustee and Hon. Treasurer, Mike Wharton, whose varied career saw him broker the deal to bring the Met Office to Exeter and support over 100 community building projects among many other things ...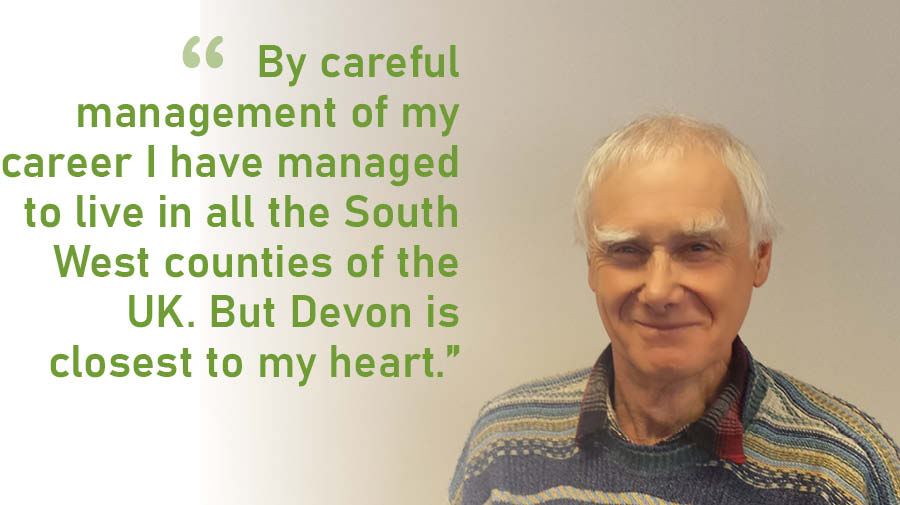 Mike Wharton BSc Commerce with Engineering, Pg. Dip. rural development
Mike has a degree in Commercial Administration and Engineering but spent most of his working life as a Civil Servant specialising in Economic Development. 
Born in Manchester with a Blacksmith Grandfather and Motor Engineer father it was inevitable that he should embark on a career in engineering.  An apprenticeship in heavy electrical was followed by high temperature plastics for the defence industry in Somerset and a move to Dorset and Industrial Heating.
A complete career change, in his early thirties, triggered a close association with the Rural Community Councils (RCC). He joined the Truro office of the Council for Small Industries in Rural Areas (CoSira), a "Quango" spawned from the Rural Business Bureau after WW2. It was charged with promoting diversification from agriculture and combating rural depopulation. Cornwall, and large parts of Devon, were assisted areas at that time. That meant that the Truro office could attract the lion's share of funding from The Develop Commission, and the Department of Trade and Industry. The funding was put to good use with loans direct to entrepreneurs, management and technical training programmes, and a workshop building programme developed in partnership with Cornwall RCC. The RCCs were part funded by the Development Commission and it was an ideal partnership. They looked after the social infrastructure and CoSira created the job opportunities
In 1984 Mike joined Devon County Council's economic development team and the family moved to Christow in Devon. In Devon Mike added the pursuit of inward investment from Japan and the USA to his successful rural development skills. His team worked with The Community Council of Devon (CCD, as Devon Communities Together used to be known) on rural issues with a shared belief that sustainable communities needed a school, shop, pub, church and, if possible, workshops. In the 90s Devon began to benefit from large allocations of EU funding. Mike's team became adept at identifying attractive projects and, over a 5-year period, matched every pound of the department's working budget with funds from Europe, bringing huge amounts of money into the county. 
In 2001, having brokered the deal which attracted the Met. Office to Exeter, Mike decided to "quit while he was ahead".  Having rebuilt the Admiral's Barge from Ark Royal IV, as an inland water cruiser, he began cruising and writing about the waterways of Europe.
In Christow, he was the first Chair of the Teign Valley Community Hall Management Committee and this led to joining CCD grants committee and becoming its Chair, eventually becoming a trustee of CCD in 2009. He takes great pleasure in the fact that by careful allocation of Devon County Council money, over 100 community building projects were supported. In 2014 he became Hon. Treasurer of Devon Communities Together.
In 2006 he became Vice Chair of Governors of Christow Primary School and a Dartmoor National Park Voluntary Warden.
Outside work sailing has been his passion. He has dedicated the last 20 years to exploring the waterways of Europe and accompanying his wife on long distance bike rides. His home in Christow is "close enough to the sea, to continue the love of sailing but within the National Park for access to miles of footpaths and country lanes."
Why I love devon ...
"By careful management of my career I have managed to live in all the South West counties of the UK. But Devon is closest to my heart. A love shared by my family. My daughters found partners at University but moved back, one to Tavistock and my youngest to Ashburton. Such is the magnet of Devon, its Moorland and seascape and way of life. What's not to love?"
Congratulations on your Devon Diamond, nomination, Mike. From an engineering background to a varied career in community development and the many voluntary roles you continue to serve, it's well deserved!
Nominate your devon diamonds
Each week during our 60th anniversary year we will be sharing a story, profile or memory from one or more of our 'Devon Diamonds'. Devon Communities Together's Devon Diamonds are people who have played a part in our story since 1961. They could be ex (or current!) employees or trustees, people who have achieved amazing things in their own communities, representatives from partner organisations we've worked with over the years, village hall committee members, Councillors, and more ... the list is endless! 
We plan to create 60 Devon Diamonds throughout the year! If you know of somebody who would make a great Devon Diamond profile, please get in touch by calling 01392 248919 or emailing info@devoncommunities.org.uk.