Devon Diamond: Nicola Gurr
Devon Diamond: Nicola Gurr
Our eighth Devon Diamond (published on International Womens Day) is Devon Communities Together's own Chair of Trustees, Nicola Gurr...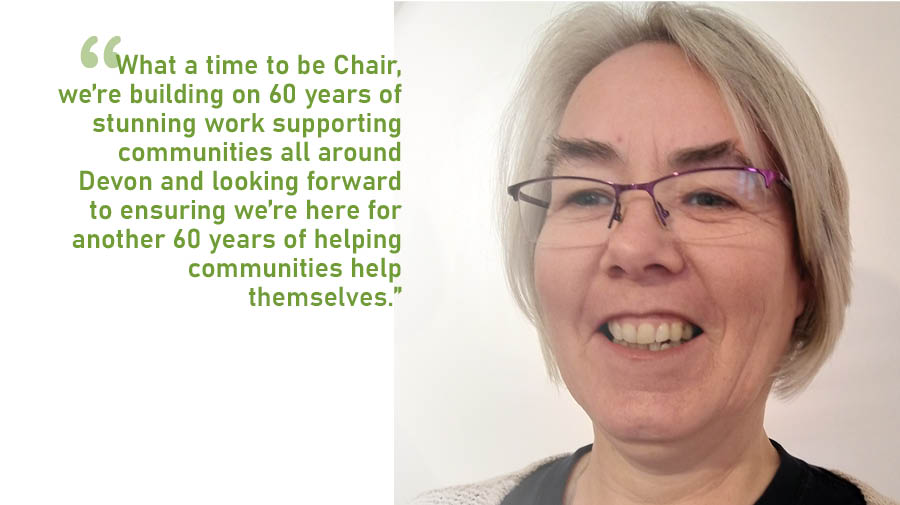 Nicola was elected Chair of the Board of Trustees for DCT in November 2020, having met our Chief Executive Nora on a leadership course a few years ago and wanting to know more about charities and how they worked. Fast forward a few years and she is now leading our amazing board of trustees! In her own words: "What a time to be Chair, we're building on 60 years of stunning work supporting communities all around Devon and looking forward to ensuring we're here for another 60 years of helping communities help themselves."
Nicola moved to Devon in 2015 to work for the NHS in Plymouth, living in Sutton Harbour on a 38-foot boat, Ailsa J.
"Living near the Barbican and waking up to the noises and smells of the water was an amazing experience and one that I will treasure for many years.  My husband is a teacher and we moved to Tavistock for him to teach and I had an amazing commute over the moor – so different from the M4 slog around Berkshire. I got to see real Dartmoor ponies and a myriad of life each day, all with stunning views.  How can you not go to work without a smile?"
As well as providing a great deal of strategic support to Devon Communities Together, Nicola also devotes time to other charities around Tavistock, having been an active local volunteer during the Covid-19 lockdowns and also playing a part in the renovation plans for the town's Guildhall. All this is alongside her day job as Managing Director of Montpelier Management Services. 
"I volunteered for Tavistock Locals Help during lockdown, but have worked primarily with Tavistock Heritage Trust which runs the visitors centre and is central to the forthcoming Guildhall renovation and tourist centre.  I work on the research side looking at cases who came through the Guildhall Court and following cases to get an idea of the people behind the crimes.  For some odd reason I have also researched the Workhouse and many of the people involved with that Institution from Guardians and staff to the inmates.  It's so interesting and full of names still part of Tavistock today!"
Why I love devon 
"Devon is a wonderful place to live and we're so lucky to wake up each morning looking across the moor, sometimes even in sunshine! Tavistock is rightly famous for its rain, which falls with amazing regularity, resulting in rich, lush trees and plants, along with plenty of wildlife and rainbows."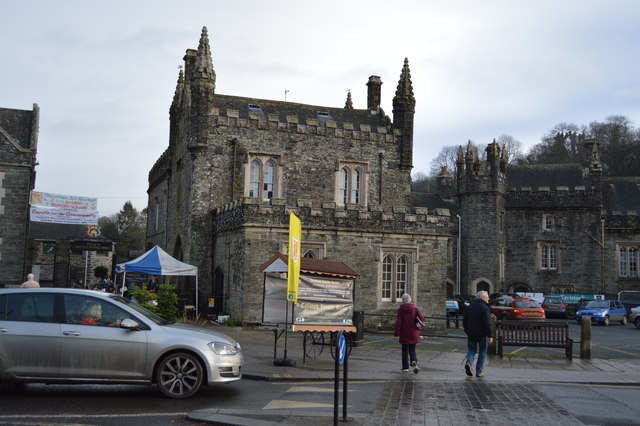 Above: Nicola is part of the project to renovate the Tavistock Guildhall. © Copyright N Chadwick and licensed for reuse under this Creative Commons Licence.
Thanks for being a Devon Diamond, Nicola. Alongside your day job you have found the time to support DCT and volunteer with other local charities - including supporting the Tavistock community during the recent lockdowns. A worthy Devon Diamond!
Nominate your devon diamonds
Each week during our 60th anniversary year we will be sharing a story, profile or memory from one or more of our 'Devon Diamonds'. Devon Communities Together's Devon Diamonds are people who have played a part in our story since 1961. They could be ex (or current!) employees or trustees, people who have achieved amazing things in their own communities, representatives from partner organisations we've worked with over the years, village hall committee members, Councillors, and more ... the list is endless! 
We plan to create 60 Devon Diamonds throughout the year! If you know of somebody who would make a great Devon Diamond profile, please get in touch by calling 01392 248919 or emailing info@devoncommunities.org.uk.