Devon Diamond: Peter Harding
Devon Diamond: peter harding
Our eighteenth Devon Diamond is Peter Harding, Devon Communities Together's very own Director of Resources who has spent over two decades helping us to support Devon's communities ...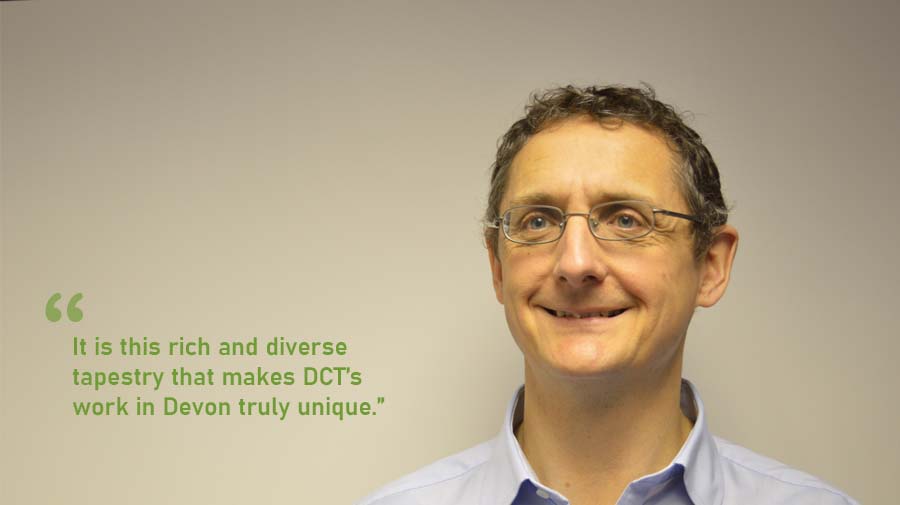 "I was born in Devon, and have spent most of my life living in this wonderful county.  I joined Devon Communities Together in 2000, attracted by its excellent reputation and its focus on supporting communities.  
"Initially, I worked directly with the people and committees running Devon's vital network of community buildings; delivering advice, support, training and grant funding.  This gave me the opportunity to travel extensively to all parts of our county, meeting the fantastic people who make our communities work.
"Since then, I have managed DCT's extensive portfolio of community services, spent a number of years as Assistant Chief Executive working with partners and stakeholders across the county, and even enjoyed a short stint as Acting Chief Executive.  For the past seven years, I have worked part-time as a Director, heading up DCT's finance and HR, ensuring that we continue to thrive as a charity.
"I have been personally involved in many projects during my time with DCT, ranging from community-based adult learning to affordable housing, and disability access to supporting entrepreneurs.  It is this rich and diverse tapestry that makes DCT's work in Devon truly unique.
"The world has changed significantly during the 20 years I have been with DCT, with the financial crash of 2008, government austerity, Brexit and more recently the Covid pandemic.  Like many successful charities, we have adapted and changed alongside this, but always remaining true to our mission to help communities help themselves, which has been my driving force for working with DCT.
"Prior to DCT, I worked for the Big Lottery, where I helped establish a pilot small grants programme, which later rolled-out nationally as the successful Awards for All programme.  I have volunteered for a number of local charities, including 12 years on the Board of Magic Carpet, a community arts organisation.  I also served as a school governor."
Why I love devon ...
"Exeter is a vibrant, friendly and increasingly cosmopolitan city, and a great place to live and bring up my family.  But my passion is for the great outdoors, and Devon has that enviable blend of sea, moor and countryside, all on the doorstep.  When I'm not taking my kids to football tournaments, I love to get out hiking Dartmoor in all weathers, mountain biking Devon's lanes and byways, swimming off Devon's beaches, or just taking in the wonderful diversity of Devon's wildlife."
Peter's achievements within Devon Communities Together as well as all of his other voluntary sector roles make him a fantastic Devon Diamond! 
Nominate your devon diamonds
Each week during our 60th anniversary year we will be sharing a story, profile or memory from one or more of our 'Devon Diamonds'. Devon Communities Together's Devon Diamonds are people who have played a part in our story since 1961. They could be ex (or current!) employees or trustees, people who have achieved amazing things in their own communities, representatives from partner organisations we've worked with over the years, village hall committee members, Councillors, and more ... the list is endless! 
We plan to create 60 Devon Diamonds throughout the year! If you know of somebody who would make a great Devon Diamond profile, please get in touch by calling 01392 248919 or emailing info@devoncommunities.org.uk.