Devon Diamond: Sandra Coleman
Devon Diamond: Sandra Coleman
Our nineteenth Devon Diamond is Sandra Coleman, from Buckfastleigh, Devon. Where Sandra grew up and where she came back to live after working away for several years. Sandra had worked as a Youth Worker and then became a National Youth and Community Officer for two international voluntary organisations.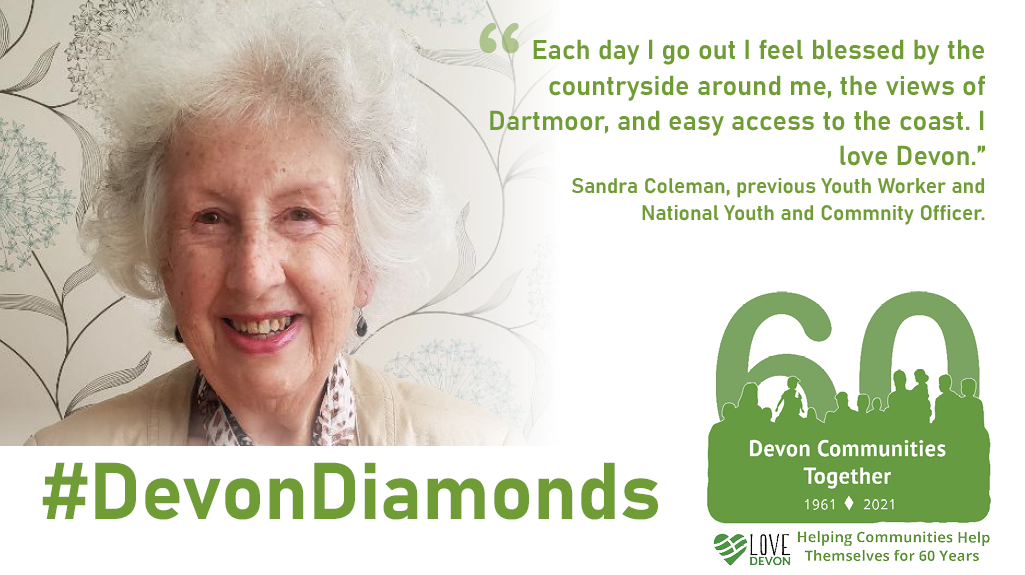 My time away had given me a fresh outlook on Buckfastleigh, and Devon, and I would not want to live anywhere else.  I am having just an interesting and fulfilling life now as I did before I retired.
My main interest is writing; I have had two books published on the history of Buckfastleigh and my research has made me appreciate the town even more. Now I am writing a book on Scorriton and Coombe, on the edge of Dartmoor. So I am learning even more about Devon and Dartmoor.
In 2005 I organised an 8-day festival called the Buckfastleigh Wool and Leather Festival, with the immense help and contribution from over 300 people. It was a great success and enabled us all to appreciate Buckfastleigh's industrial past and present.
I then spent several years managing the Valiant Soldier's Information Centre and Museum. The Valiant Soldier used to be a very lively pub which closed in the 1930s. Everything remains as it was. It has become a source of interest to local people and visitors to the town
As manager I applied for, and received, a large grant to open a Buckfastleigh Museum, and an Archive, above the Information Centre. Thanks to the hard work and keen interest of several hard-working volunteers, it is proving a great success.
The main impact of these projects is that local people appreciate that we have a fascinating heritage which should be preserved for present day inhabitants and future generations.
Why I love devon ...
Devon is a county that I am very proud of and love immensely. It is a warm, friendly and welcoming county- and whatever village or small country town you might visit you can be assured that you will be made to feel at home.
Each day I go out I feel blessed by the countryside around me, the views of Dartmoor, and easy access to the coast. I love Devon.
Nominate your devon diamonds
Each week during our 60th anniversary year we will be sharing a story, profile or memory from one or more of our 'Devon Diamonds'. Devon Communities Together's Devon Diamonds are people who have played a part in our story since 1961. They could be ex (or current!) employees or trustees, people who have achieved amazing things in their own communities, representatives from partner organisations we've worked with over the years, village hall committee members, Councillors, and more ... the list is endless! 
We plan to create 60 Devon Diamonds throughout the year! If you know of somebody who would make a great Devon Diamond profile, please get in touch by calling 01392 248919 or emailing info@devoncommunities.org.uk.