Devon Diamond: Sandra Willetts
Devon Diamond: sandra willetts
Our 21st Devon Diamond is Sandra Willetts, who, as part of the Winsford Hospital League of Friends, saved an important community building for use by the community and has been involved in many other causes and charities in the county ...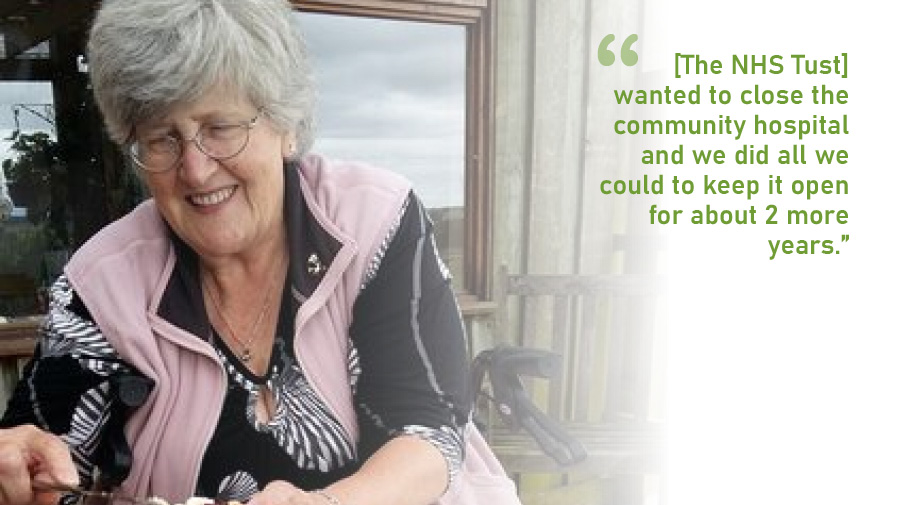 "My family moved down to Devon from London in 1986 and decided the best way to "fit in" the community was to join local organisations. I joined the WI in Sheepwash and after making friends became involved in the Winsford Hospital League of Friends. Our main job was to provide funding for the staff and patients for things (such as training) that would not normally be paid for by the NHS.  However, the North Devon NHS Trust wanted to close the community hospital and we did all we could to keep it open for about 2 more years, by persuading the Community Health Council to challenge the decision in the High Court. At the time I was the treasurer and went to the court every day with our chairperson.
"The Trust still decided to close Winsford (in April 1999) but the League of Friends set up The Winsford Trust and raised funds to purchase the building by Christmas 1999. Following decorating and furnishing we re-opened in the spring of 2000.  The building opened most days of the week: three days for a day centre and used by the public and Scallywags playgroup/nursery. At this time I was still treasurer and administrator, as a volunteer. The only people  paid at that time were the cook and the cleaner. As a volunteer I would not ask anyone to do anything I would not do myself.
Find out more about the Winsford Centre here.
"During that spring a member of the Devon Community Council (later to become Devon Communities Together) recommended that I apply to become a "student" at the first instigation of the School for Social Entrepreneurs. This was one of the best things I have ever done. I learnt so much, especially how to complete a proper Business Plan, and also made lots of contacts.
"This has proved very useful since, as I have been involved in: Blake House Surgery League of Friends, Holsworthy Community Forum, Holsworthy HELP, and Halwill Community Market, which raises funds for local charities and community groups.  Although I am retired I am happy to network and help people with information."
Sandra's dedication to save the Winsford Hospital building for use by the community is the epitome of positive community action - thank you for being a Devon Diamond, Sandra!
Nominate your devon diamonds
Each week during our 60th anniversary year we will be sharing a story, profile or memory from one or more of our 'Devon Diamonds'. Devon Communities Together's Devon Diamonds are people who have played a part in our story since 1961. They could be ex (or current!) employees or trustees, people who have achieved amazing things in their own communities, representatives from partner organisations we've worked with over the years, village hall committee members, Councillors, and more ... the list is endless! 
We plan to create 60 Devon Diamonds throughout the year! If you know of somebody who would make a great Devon Diamond profile, please get in touch by calling 01392 248919 or emailing info@devoncommunities.org.uk.