Devon Diamond: Teresa Butchers
Devon Diamond: teresa Butchers
Our fourth Devon Diamond is a former Chair of Devon Communities Together, Teresa Butchers...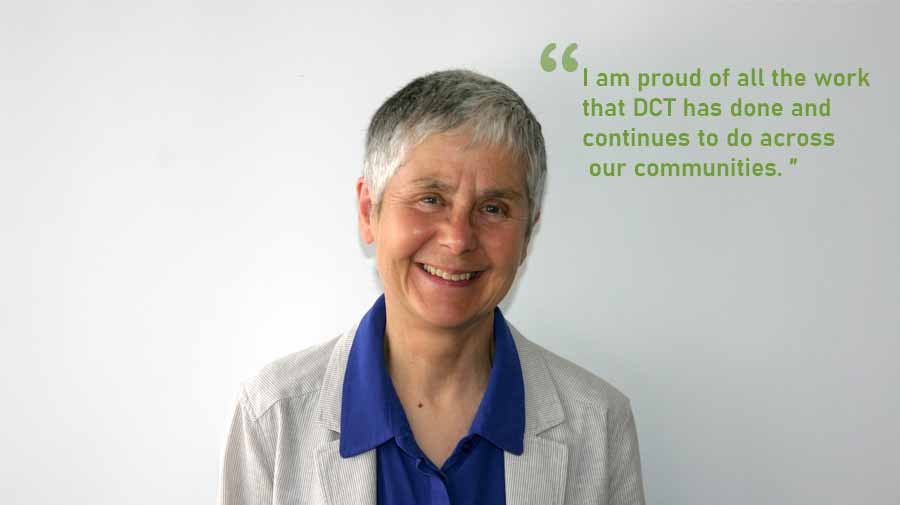 Teresa stepped down from the board of DCT in 2018 after nine years supporting our charity (including four as Chair), not only presiding over our strategic direction but also providing lots of hands-on help on many of our projects. She was inspired to join DCT after her previous career in affordable housing showed her the value of strong communities. 
"I worked for many years for a local housing association and learnt there the importance of communities, how they provide mutual support and strength, and a voice for local residents.  I also got to know about the impressive work of DCT, so when I retired I was delighted to be elected to the board of Trustees."
"I am proud of all the work that DCT has done and continues to do across our communities, but perhaps will pick out two areas in particular. 
"The first is the work of the rural housing enablers, who have over the years been pivotal in the development of many beautiful, well planned and well built houses in Devon's villages, which remain available for local people on modest incomes, in perpetuity.
"And more recently, Constructing Futures, in partnership with South Devon College, involving the training and participation of students in the rehabilitation of local homes, with an innovative grant from the Heart of the South West Local Enterprise Partnership, so that the project can continue into the future."
Since stepping down from DCT, Teresa continues to be involved in community activities local to her home near Tiverton, including a small community apiary which was started with a grant from HogCO, a DCT project; a community lunch project using food which would otherwise go to waste, and the development of a Neighbourhood Plan.  These are the kind of projects which DCT promotes and enables right across the county, supporting passionate and committed people like Teresa to create positive, sustainable change in their communities.
Why I love devon 
"I love Devon because it's home, for its beautiful landscape and productive countryside, and because it contains so many thriving and supportive communities with people ready to do their best for their neighbours."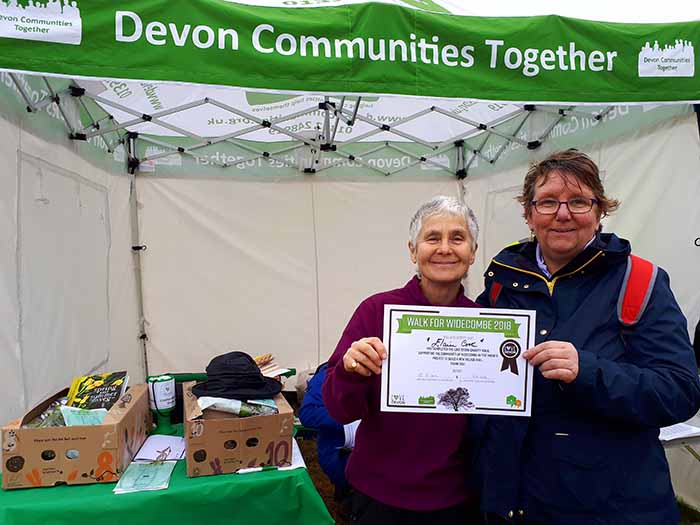 Above: Teresa Butchers (left) and former DCT Chief Executive and fellow Devon Diamond Elaine Cook, after Teresa completed a sponsored 'Walk for Widecombe' organised by DCT in 2018 to help Widecombe raise money for its new village hall. 
Thanks for being a Devon Diamond, Teresa. Your years at DCT were hugely influential and we're pleased to see you're continuing to do amazing things in your local community!
Nominate your devon diamonds
Each week during our 60th anniversary year we will be sharing a story, profile or memory from one or more of our 'Devon Diamonds'. Devon Communities Together's Devon Diamonds are people who have played a part in our story since 1961. They could be ex (or current!) employees or trustees, people who have achieved amazing things in their own communities, representatives from partner organisations we've worked with over the years, village hall committee members, Councillors, and more ... the list is endless! 
We plan to create 60 Devon Diamonds throughout the year! If you know of somebody who would make a great Devon Diamond profile, please get in touch by calling 01392 248919 or emailing info@devoncommunities.org.uk.