Devon Diamond: Wilfred Emmanuel-Jones MBE
Devon Diamond: Wilfred Emmanuel-Jones 'The Black Farmer'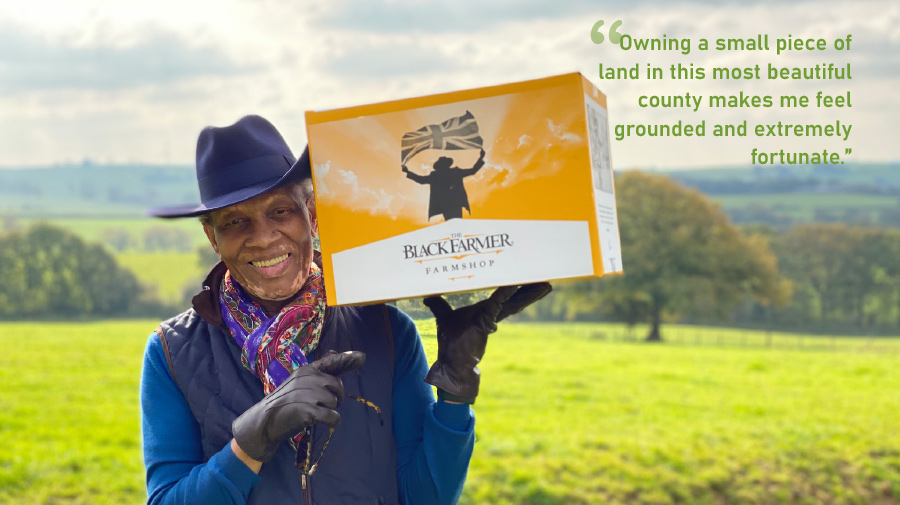 Our second Devon Diamond is a former contributor to the first ever edition of our LOVE Devon magazine, Wilfred Emmanuel-Jones MBE, AKA 'The Black Farmer'...
In 1999, Wilfred Emmanual-Jones bought a small farm in West Devon, becoming known as 'The Black Farmer' as that's how many of his new neighbours referred to him.  "I thought this would make a fantastic brand name, and so the brand was born".  Since then, he has gone on to build The Black Farmer into a national brand and have recently launched an online Farmshop selling only West Country produce. 
Wilfred is a proud advocate for Devon and its produce, regularly shining a spotlight on the amazing rural communities we work with: 
"One of my greatest motivations in launching The Black Farmer brand was to put Devon and its fantastic farmers and producers firmly on the map.  Now I am known for being a Devon farmer and I wear this with pride – so whenever I am doing talks, visiting supermarket buyers or travelling overseas, I am taking Devon and its communities with me.  In this year's New Year's Honours list I was humbled to receive an MBE for services to farming."
Why I LOVE Devon
Despite not setting foot in the county until in his 40s, Wilfred has a huge affinity with Devon:
"I consider Devon to be my spiritual home.  Owning a small piece of land in this most beautiful county makes me feel grounded and extremely fortunate.  Just by walking outside of my front door I can look across the fields to Dartmoor and even further afield to Cornwall. 
"I loved Devon from the moment I set foot in it, which wasn't until I was in my 40s.  It is outside of the commuter belt and has retained so much of its natural, raw beauty.  The moors are vast and provide a plethora of walks and other activities for locals and visitors alike, not to mention the coastline – rugged and utterly beautiful with great beaches and walks.  Our local produce is second to none – meat, seafood, dairy – you name it, Devon produces exceptional quality products.  And, of course, its restaurants and bars, from Michelin star chefs, to friendly pubs offering great food.  All in all, Devon is a magical place and I love it!"
Thanks for being a Devon Diamond, Wilfred!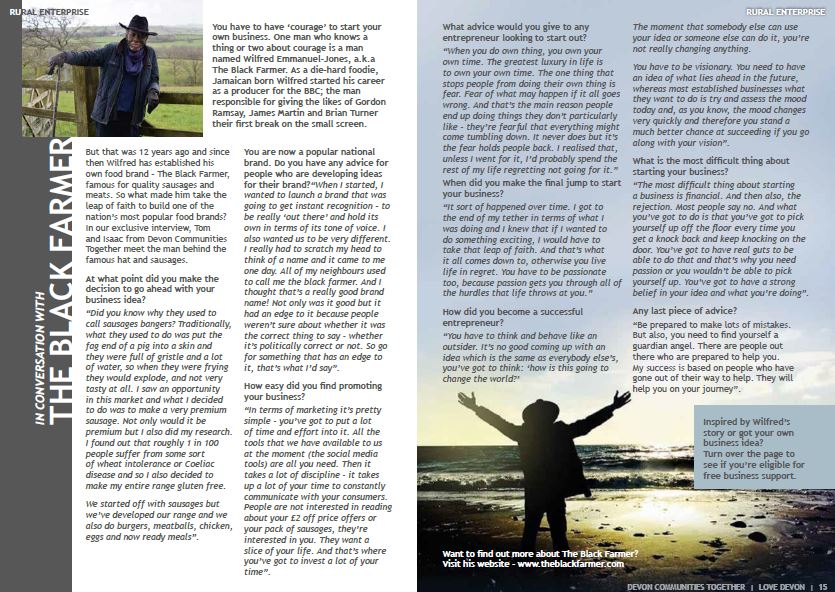 Above: The Black Farmer article in our first ever LOVE Devon magazine from 2017!
Nominate your devon diamonds
Each week during our 60th anniversary year we will be sharing a story, profile or memory from one or more of our 'Devon Diamonds'. Devon Communities Together's Devon Diamonds are people who have played a part in our story since 1961. They could be ex (or current!) employees or trustees, people who have achieved amazing things in their own communities, representatives from partner organisations we've worked with over the years, village hall committee members, Councillors, and more ... the list is endless! 
We plan to create 60 Devon Diamonds throughout the year! If you know of somebody who would make a great Devon Diamond profile, please get in touch by calling 01392 248919 or emailing info@devoncommunities.org.uk. 
Pictured above - Plymtree Primary School: © Chris Allen and licensed for reuse under this Creative Commons Licence.