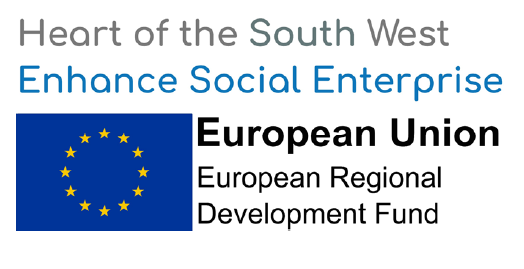 Devon Communities Together (DCT) has won a major contract to deliver social enterprise network development across Devon, Plymouth, Torbay and Somerset.
DCT will be working in partnership with Devon County Council and social enterprise networks across the HoTSW LEP area:
• Plymouth Social Enterprise Network (PSEN)
• Essence of Exeter CIC Social Enterprise Network
• Torbay Community Development Trust (TCDT)
• Community Council of Somerset (Smart Communities Ltd)
It will develop an online database with a map and directory showing the array of goods and services available locally from social enterprises across Devon, Plymouth, Torbay and Somerset.
Sixteen local events will be produced to support the social enterprise sector to strengthen financial planning, develop and launch products, secure new business and investigate digital solutions for future growth.
The work has been funded by the European Regional Development Fund (ERDF) and is part of the Enhance Social Enterprise programme providing skills, advice, access to new markets and networking opportunities to the social enterprise sector.
Elaine Cook, Chief Executive at DCT, said: "This partnership is a fantastic opportunity for social enterprise networks across the HoTSW LEP to work together to help social enterprises to help themselves."
Alongside the work of DCT and the social enterprise networks, Devon County Council will deliver three major social enterprise events in 2019/20. These events will focus on:
• Community Wealth Building
• Health, Social Care and Wellbeing
• Social Enterprise Career Pathways and Start Up Roadshow
Councillor Rufus Gilbert, Devon County Council Cabinet Member for Economy and Skills, said: "We're pleased to be working with Devon Communities Together to help develop the social enterprise networks across Devon, Plymouth, Somerset and Torbay. The social enterprise sector has really developed in our area in recent years, and this latest programme will bring enterprises together to potentially help stimulate future growth."
For more information about the Enhance Social Enterprise Programme and to register, visit http://devon.cc/ese
The Heart of the South West Enhance Social Enterprise Programme is receiving up to £1,053,610 of funding from the England European Regional Development Fund (ERDF) as part of the European Structural and Investment Funds Growth Programme 2014-2020. The Department for Communities and Local Government (and in London the intermediate body Greater London Authority) is the Managing Authority for European Regional Development Fund.
The Ministry of Housing, Communities and Local Government is the Managing Authority for ERDF. Established by the European Union, ERDF funds help local areas stimulate their economic development by investing in projects which will support innovation, businesses, create jobs and local community regenerations.
For more information visit https://www.gov.uk/european-growth-funding