Listening Ear
1st December 2020 - 31st March 2021
Wellbeing support for Devon businesses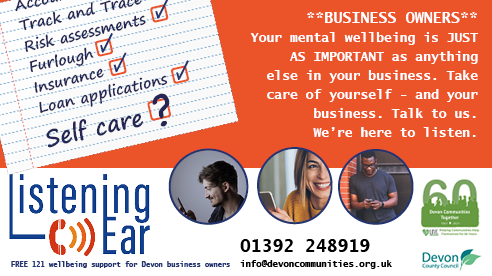 Book your listening ear session here
Read about and book on to a Listening Ear event here
Running a business is stressful at the best of times. Running a business during a pandemic is even harder. There's a lot to think about just to keep afloat at the moment. But don't forget that YOU are one of the most important parts of your business and you need to look after yourself as well as the paperwork.
Listening Ear is a new service that gives you the opportunity to chat informally to an experienced volunteer about whatever's making you feel stressed. We're not here to offer business advice; we're here to provide a friendly, impartial listening ear so you can talk about whatever you feel you need to. 
Could you benefit from someone to talk to?
Our experienced volunteers will provide a supportive ear and will also be able to signpost you to other services if you need them.
Your wellbeing is important to both your health and the future of your business. Talking to one of our Listening Ear volunteers is a way for you to prioritise your own mental wellbeing, especially when you may not feel comfortable talking to your friends and family about things.
It's ok to put yourself first. Call our team and book your first chat today. 

Click here to book your Listening Ear appointment. Or if you would like to learn more about the service, please contact info@devoncommunities.org.uk or call 01392 248919.  
FREE online event
Our event on 19th March 11:30-1pm, is for Devon's hospitality and tourism sector and enterprises within the supply chain. Pubs, B&Bs, accommodation, cafes,  sattractions, craft, retail, food suppliers, farm diversification, and more - you are all welcome. We have four expert speakers lined up for you and it is totally free.
Find out more and book your free space


Could you be a Listening Ear volunteer?
Many local business owners are finding things challenging due to the effects of Covid-19, not only in terms of their businesses but their wellbeing and stress levels. We're seeking volunteers to provide a friendly 'listening ear' to business owners who need an independent person to chat to. 

Do you have experience in running a business? Perhaps you have provided professional services for businesses? It could be that you are a coach, mentor or counsellor. If you think you could help to provide support to a business owner, we'd love to hear from you.  

Listening Ear's focus is on people's wellbeing. You will not need to give any business advice; you'll simply be someone to listen, and signpost to other services if appropriate. 
The Listening Ear Service will initially run until March 2021 and you would need to commit to a minimum of one phone call each week. You will receive an induction pack and will be supported by Devon Communities Together throughout the process. 
Sign up to volunteer here and we will be in contact with you. 
Or if you would like to talk further about the role, please contact info@devoncommunities.org.uk or call 01392 248919. 
Listening Ear is funded by Devon County Council and has been developed by a partnership of Devon Communities Together and Heart of South West Growth Hub. It is initially a pilot until March 2021, with the possibility of being extended and expanded in the future.