Creating change in YOUR COMMUNITY
Catalyst is a professional consultancy service which supports businesses, local councils, social enterprises and community groups to achieve their objectives and create positive change in Devon.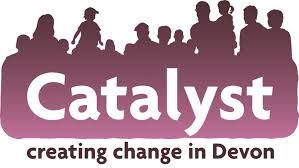 Provided by independent charity Devon Communities Together, Catalyst draws on over 50 years' experience in rural and community development. We work with clients of all sizes on a wide range of bespoke services designed to help identify solutions to their challenges and bring them to fruition. 
The Catalyst team includes experts on business planning, fundraising strategies, neighbourhood planning and localism, community owned assets, stakeholder consultation, training, marketing, rural housing, community owned assets, governance and legal structures and feasibility studies. We can tailor a package of support that suits your objectives.

Our services include:
. Fundraising Strategies
. Feasibility Studies
. Stakeholder Consultation
. Governance & Legal Structures
. Community Owned Assets
. Positive Community Engagement
. Design & Facilitation of Partnership Forums
. Rural Housing Services
. Neighbourhood Planning & Localism Powers
. Training & Mentoring
. Marketing
. Business Plans
. Evaluation & Impact Assessment & Monitoring
Catalyst's professional consultancy team will:
be a trusted voice using our unique rural reach
provide honest advice that achieves solutions
introduce innovative models of good practice
achieve effective community participation
be a knowledgeable and approachable extension of your team
For an initial, no commitment, discussion about your requirements please contact:
Dawn Eckhart on 01392 248919 ext*7170 or email dawn@devoncommunities.org.uk