Devon Diamond: Ana Collier
Devon Diamond: Ana Collier
Our thirteenth Devon Diamond is Young Devon's Ana Collier, who worked as a mentor within the Empowering Enterprise project; among other things coming up with the awesome Welcome Bags idea, which provided self-care products for young people working towards building their confidence around job seeking and training opportunities ...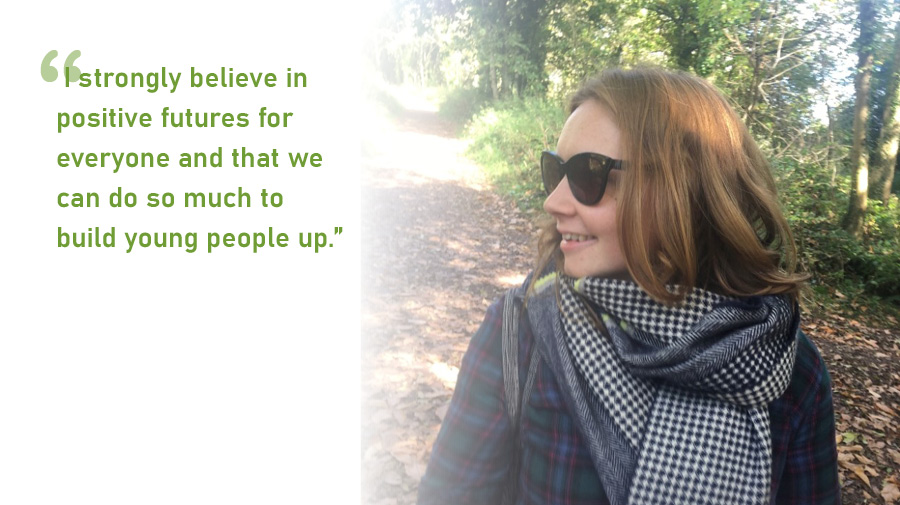 Here is Ana's story in her own words:
"I've been working for Young Devon for just over 3 years, supporting young people who are most at risk of social exclusion. Our delivery of the Empowering Enterprise project successfully engaged 142 individuals struggling with multiple barriers such as poor mental health, unstable housing, isolation and lack of opportunity to move forward.
"My caseload has been diverse and I have been privileged to build trusting relationships with young people, which enable me to support them through difficult journeys. Whilst mentoring I took a holistic approach, encouraging confidence, aspiration and self-belief to build foundations and reinforce that the difficulties each individual faced was not a way of life.
"Taking an active role in the development of young people has built my own skills and resilience, supporting people through suicide attempts, homelessness, family breakdowns and personal struggles with gender and sexuality; to inspiring them to enrol on a course, take up a volunteer opportunity or seek experience to gain employment. I strongly believe in positive futures for everyone and that we can do so much to build young people up.
"As my role progressed in the charity, I was able to innovate and encourage new ways of working. This led to several new funds being offered within Empowering Enterprise to develop our approach.
"Noticing that young people struggled with personal care and hygiene through difficulties with their mental health, unstable benefits or anxieties around visiting shops, I developed the idea for Welcome Bags; a non-judgemental package of supplies given to everyone who engaged with us, with 30 products including toothbrushes, toothpaste, sanitary products, shampoo and a couple of treats. We were able to see an improvement in the appearance and motivation of young people owing to having a basic need met.
"We also worked closely with Proud2Be to provide safe spaces and understanding of LGBTQ+, and hosted a Christmas meal and award ceremony for 30 participants from across the county, providing a 3 course meal and an experience that many young people would not have access to otherwise.
"I am now leading a new project for Young Devon which seeks to build on our previous success whilst responding to Coronavirus, which has seen individuals fall further into hopelessness.
"I am incredibly proud of my work and it was a really exciting surprise to be nominated as a Devon Diamond, I worked closely with DCT over the last 3 years and value their community focused approach. The input into our work through evaluation and challenging our approaches was invaluable."
Why I love devon ...
"When not at work I enjoy spending time with my family, we live in Tiverton which is surrounded by wonderful countryside, walking and exploring our local area is what you'll find us doing on the weekends. Our daughter is 9 and I feel lucky to be able to bring her up in Devon with its beautiful scenery and positive sense of community."
Thanks for being a Devon Diamond, Ana. It's been a real pleasure to witness the difference mentors like you have made to young people in Devon!
Nominate your devon diamonds
Each week during our 60th anniversary year we will be sharing a story, profile or memory from one or more of our 'Devon Diamonds'. Devon Communities Together's Devon Diamonds are people who have played a part in our story since 1961. They could be ex (or current!) employees or trustees, people who have achieved amazing things in their own communities, representatives from partner organisations we've worked with over the years, village hall committee members, Councillors, and more ... the list is endless! 
We plan to create 60 Devon Diamonds throughout the year! If you know of somebody who would make a great Devon Diamond profile, please get in touch by calling 01392 248919 or emailing info@devoncommunities.org.uk.